no worries

rp'd by sync
Status
Alive, 14 years of age
Betrothed to
Margrethe Køhler
Appearance
Gender
Male
Species
Wizard
Ethnicity
English
Height
5'9'
Weight
190 lbs
Eye Color
Brown
Hair Color
Blond
Magical Properties
Wand
Ebony, Unicorn Hair, 10 1/3 inches
School
Hogwarts, Gryffindor
Mirror of Erised
Boggart
Patronus
Atlantic Sea Turtle
Amortentia
Personality
Virtues
Enthusiastic, Independent, Lighthearted
Vices
Arrogant, Stubborn, Impulsive
MBTI Personality Type
ISFP
Character Alignment
Lawful Good
Other Information
Profession
Student
Family
The Chamberlains
Ridley Chamberlain
Hogwarts Student
Fourth Year
Personality
Ridley is self-involved.
...Very self-involved.
So, yes, that does translate into the more than occasional immaturity gone down the wrong path towards insensitivity. And the inability to accept he's ever done anything wrong, or that he could ever be wrong. Be careful not to tell him any secrets, as well, since he has a certain degree of... Verbal incontinence.
But that isn't to say he's all bad. Much the opposite. He may not have a heart of gold, but it is 20% precious metals. He's loyal to his family, does his best to please, and only has the purest of intentions. While swordplay is a favorite past-time of his, the thought of actually harming another person appalls him, and if he sees someone is in danger, he would do anything in his power to help.



History
Ridley, along with his three younger siblings, are wealthy pure-bloods, born of the Chamberlain Great House. They grew up in a lavish household where Bradley and Ridley were taught to be perfect gentlemen, something they only occasionally adhere to doing. Ridley fancies himself a bit of an actor, given his flawless way of pretending to be just what his parents had wanted him to be. He isn't, not fully, (he's far too childish for that), but he isn't terribly fussed about it.
Ridley took to swordplay, Bradley did as well (though Bradley is easily better than him at this point), Sophronia couldn't be kept away from the shooting range (though Olivia did have something to say about that), and Elena, well, Elena and books go hand in hand, don't they?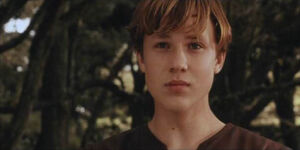 Appearance
Ridley is a stocky lad with brown eyes and blond hair - unlike the general family resemblance of having dark brown hair. In that way, he moreover takes after his grandfather.
Ad blocker interference detected!
Wikia is a free-to-use site that makes money from advertising. We have a modified experience for viewers using ad blockers

Wikia is not accessible if you've made further modifications. Remove the custom ad blocker rule(s) and the page will load as expected.